Product Introduction
HE leak location Tester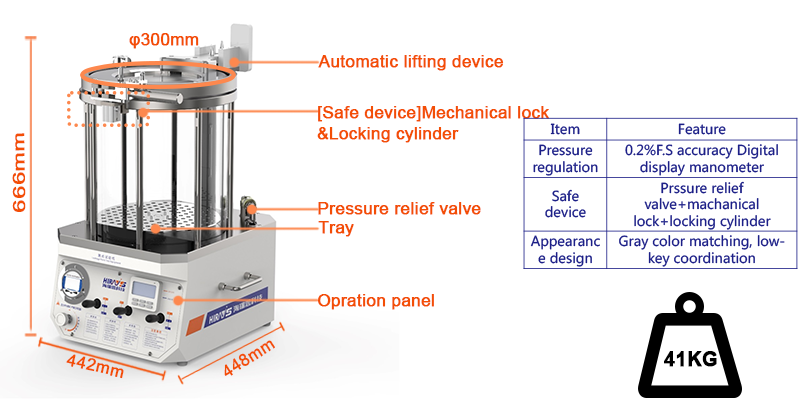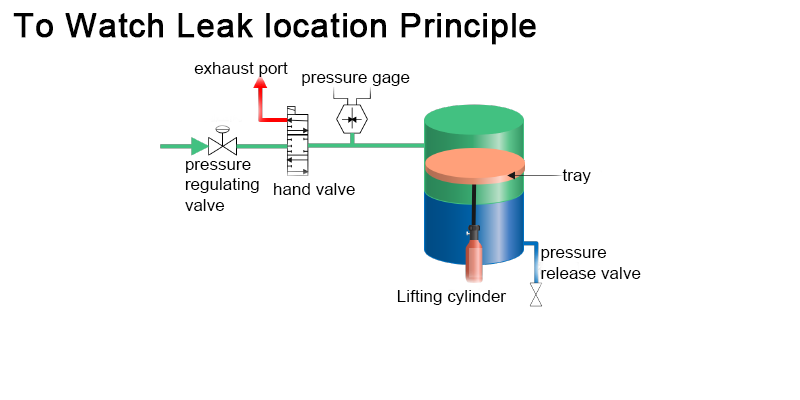 1. Release the product. Open the cylinder head, place the product on the tray and fix it;
2. Pressure on water. Open the manual valve and push the adjusted pressure into the upper part of the cylinder. In the green part, if the product leaks, the air pressure will enter the product at this time.
3. The flooding. After pressurization, the control cylinder lets the product sink into the water along with the tray.
4. The pressure relief. After the product is immersed in water, open the manual valve to remove the pressure from the upper space, so that the pressure is normal pressure. If the product leaks, the pressure inside the product will be higher than normal pressure. At this time, you can observe whether there are bubbles to see whether the product leaks.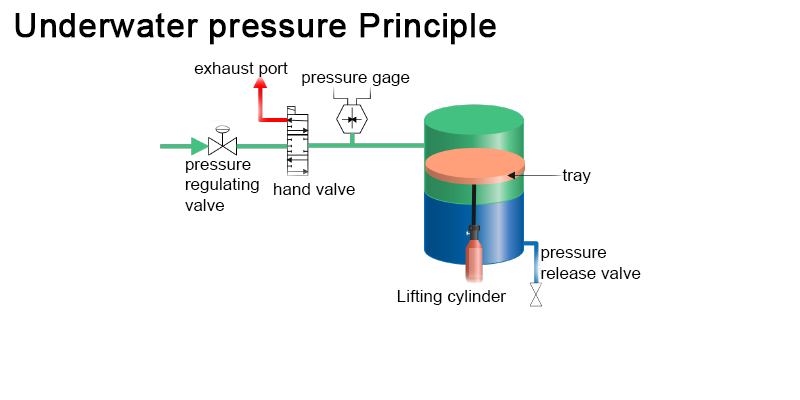 1. Release the product. Open the cylinder head, place the product on the tray and fix it;
2. Flooding. The control cylinder lets the product sink into the water with the tray;
3. The pressure. Apply preset pressure on water and stabilize pressure to set time. At this point, the product is underwater, and the water pressure of 500KPA, for example, can simulate the water test situation of the product in the water depth of 50 meters;
4. Relieve pressure and weigh. Open the manual valve, remove the pressure above the water, remove the product, wipe it dry with a cloth, and then put it into a high-precision balance scale for bearing. Determine whether there is a leak;
Advantage
High precision pressure regulating valve and pressure gauge, unique design allows real-time display of pressure adjustment;

Triple safety protection, no amount of protection can be too much;

The aesthetic appearance design;
Benefit
Handy pressure adjustment feeling, real-time accurate control of test pressure;

For your test safety, three protective locks, no risk test;

The feeling of relief, feeling the joy of work;
| | | |
| --- | --- | --- |
| Type | test pressure range | Simulated depth |
| HE-P10 | 10-200KPA | 1-20meter |
| HE-P20 | 201-600KPA | 20.1-60meter |
| HE-P30 | 601-800KPA | 60.1-80meter |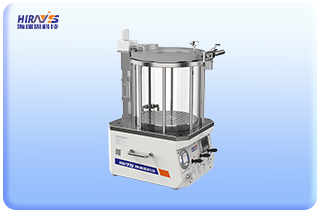 HE leak point tester

Need help or have a question?
For more information about testing technologies, please contact us. Our expert will reply to you ASAP.